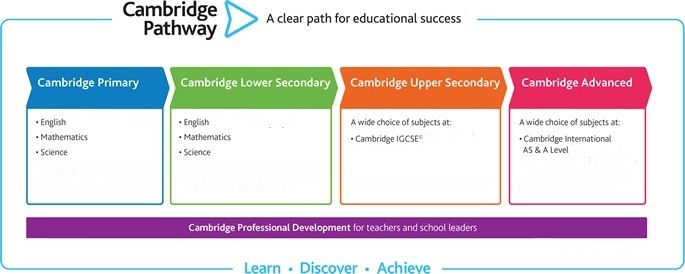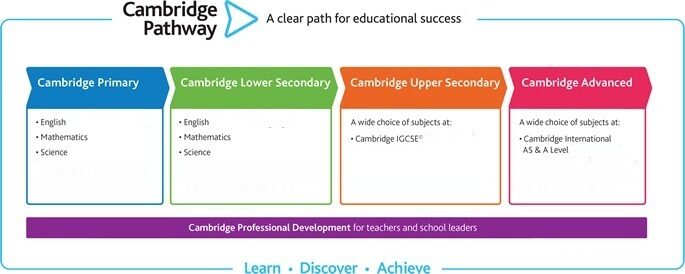 Cambridge Assessment International Education (CAIE) prepares students from Y1-12 for life, helping them develop an informed curiosity and a lasting passion for learning.
Cambridge Pathway gives students a clear path for educational success. It helps our students discover new abilities and a wider world, and gives them the skills they need for life, so they can achieve in school, university, their future careers and in society.
The Cambridge Pathway allows our teachers to support and develop our students into individuals who are:
1| Confident in working with information and ideas – their own and those of others.
2| Responsible for themselves, responsive to and respectful of others.
3| Reflective and developing their ability to learn.
4| Innovative and equipped for new and future challenges
5| Engaged intellectually and socially, ready to make a difference.
At the end of the Cambridge Upper Secondary and Advanced stages, our students achieve globally recognised qualifications like Cambridge IGCSE® and Cambridge International AS & A Level.
Learners who follow this curriculum framework will develop a first language competency in English based on a curriculum designed to be successful in any culture and to promote cross-cultural understanding.
Cambridge Primary & Lower Secondary English enables learners to communicate confidently and effectively and to develop the critical skills to respond to a range of information, media and texts with understanding and enjoyment.
This curriculum focuses on principles, patterns, systems, functions and relationships so that learners can apply their mathematical knowledge and develop a holistic understanding of the subject.
Cambridge Primary Mathematics curriculum framework explores five content areas: number, geometry, measure, handling data and problem solving.
The Lower Secondary Mathematics curriculum framework expands on the above to include algebra. The content areas are all underpinned by problem solving, which provides a structure for the application of mathematical skills. Mental strategies are also an important part of the number content.
This curriculum is focused on developing confidence and interest in scientific knowledge.
Cambridge Science covers four content areas: scientific enquiry, biology, chemistry and physics. Scientific enquiry is about considering ideas, evaluating evidence, planning, investigating, recording and analysing data. Environmental awareness and some history of science are also part of the curriculum.
At MIS we have several dedicated specialised and well-equipped science labs for practical lessons including demonstrations and investigative work.
Cambridge Global Perspectives (From Year 7) 
Cambridge Global Perspectives is a new unique, transformational programme that helps students at every stage of school education develop outstanding transferable skills, including critical thinking, research, analysis, evaluation, reflection, collaboration and communication.
This innovative and stimulating skills-based programme places academic study in a practical, real-world context. It gives students the opportunity to develop the skills that they need to be successful at school and university as well as in their future careers.
The programme taps into the way today's students enjoy learning, including group work, seminars, projects and working with other students around the world. The emphasis is on developing students' ability to think critically about a range of global issues where there is always more than one point of view and challenges learners to explore and make judgements on the global issues that really matter to them.