We provide a very efficient, safe and reliable bus service which is operated to international standards. MIS has highly trained professionals planning, organising, monitoring and taking immediate action to safeguard our students from any problems and ensure they are comfortable and safe at all times.
Transport Network
Currently, our transport network covers a variety of routes in the following areas of East Cairo;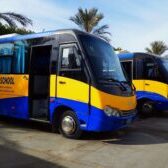 1| New Cairo
2| 1st Settlement
3| 5th Settlement
4| Rehab City
5| Madinaty
6| Shorouk
7| Obour
8| Maadi
9| Nasr City
10| Heliopolis etc.
Safety
Please note: this is subject to demand, capacity, accessibility and safety as appropriately deemed by the school.
Our primary concern is the safety of every student that rides on our school buses. Therefore, every precaution will be taken to ensure safe arrival of every student at their drop-off point. This can only be accomplished if we have the cooperation of both student and parents especially regarding proactive preventive safety measures and practices.
Matrons
On every bus there is a matron whose primary duty is to look after the students in the bus. The matron will meet students at the bus door and ensure the student is properly seated with seat belts on. The matron will stay with the students on the bus at all times.